Grinding is a process using the rotation of a grindstone to scrap off the workpiece until it meets the predetermined surface dimension and roughness.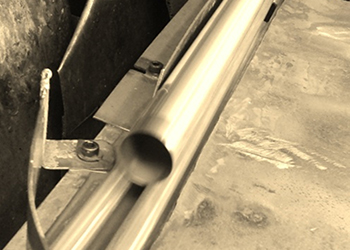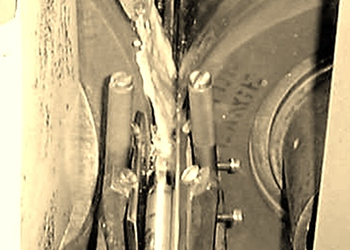 We are capable of several types of process such as in-feed grinding, through-feed grinding and cylindrical grinding.
Through-feed grinding is commonly used to process thin-wall straight steel rollers which can have outer diameter tolerances well below 15μm.
In-feed grinding is applied to workpiece having a flared shape at both ends. Outside diameter difference of the flared ends can be achieved up to 0.15 mm.
Like turning, cylindrical grinding requires the work piece to be fixed on a chuck. A rotating grinding wheel, instead of a tool bit, will shape the workpiece. Cylindrical grinding is applied to several cases depending on the difficulty of coaxial and run-out requirements.
Our strength is in producing thin wall pipes with wall thickness less than 0.3 mm.
○ Flared range of outer diameter: φ0.15mm (difference between left and right ends is less than 15μm)
○ Outer diameter tolerances: less than ±15μm
○ Surface roughness: less than Ra 1.6(μm)
○ Circumference run-out: less than 30μm (less than 15μm in case of cylindrical grinding)